Servo Motors Services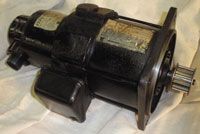 Servo Motor Repair is highly specialized and requires a shop that has factory trained technicians, documentation, test equipment, cabling, and expertise to repair these sophisticated motors. Servos vary widely in specifications from one manufacturer to another. We have invested in the equipment and training to repair your Servo motors locally. Upon receiving your motor we will run test it to give you an evaluation and quotation for repair and upon approval, we will do what is required to return your motor to factor new condition.
Palo Alto Electric Motor Corp. provides a variety of services to our customers for the sales, service and repairs many different servo motors. Our staff will assist you by providing excellent customer service to document and help troubleshoot your ac brushless or dc servo motor needs.
Servo Motor Services •
Dynamic testing
Encoder testing
Motor winding surge test
Bearing replacement
Back drive test
Motor winding / encoder alignment
Armature bar-to-bar test
Armature growler test
Armature dynamic balanced
Machine and undercut mica
Brush replacement
Brush holder repairs